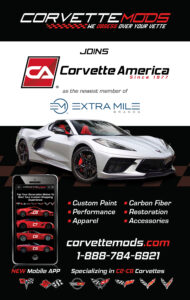 August 5, 2022
'Extra Mile Brands' is pleased to announce the asset acquisition of 'Corvette Mods', our long-time customer founded in 2008 by our friend and colleague Neal Balog.  'Corvette Mods' has become the global leader in the late-model Corvette aftermarket, specializing in parts and custom accessories from C2 through C8 Chevrolet Corvettes. By pioneering the Corvette Custom Paint and Hydro-Dipping industries, 'Corvette Mods' ushered in a new era and created a one-stop destination for Corvette owners wishing to restore, modify or customize their Corvettes.
'Corvette Mods' founder, Neal Balog, has assembled a fantastic team and a robust customizable product line with tens of thousands of customers worldwide resulting in six straight years of being included in the 'INC 5000 Fastest Growing Privately Owned American Companies'.  Adding 'Corvette Mods' extensive late-model knowledge and general platform expertise to 'Corvette America's industry-leading restoration strengths and 'Top Flight Automotive's' expansive Corvette portfolio makes 'Extra Mile Brands' the undisputed global leader in the Corvette aftermarket, bar none.
The acquisition of 'Corvette Mods' also includes the assets of 'Modern Gen Auto' and 'Discount Auto Mods', both servicing domestic enthusiast platforms including Corvette, Mustang, Camaro, Challenger, Wrangler, F-150 and many more.  We are very excited about the prospect of our two teams joining forces and what that means for our future as a combined entity.
Orion Super, 'Extra Mile Brands' CEO noted, "We are very fortunate to acquire such a wonderful business that shares our strategic vision for the future of the automotive enthusiast aftermarket.  We feel privileged to be able to consolidate our two companies' unique strengths making our combined portfolio of industry-leading Corvette parts, accessories and customization more accessible to the global Corvette community."
'Extra Mile Brands' is a manufacturer and distributor of automotive parts, accessories, and performance products located in Reedsville, Pennsylvania.
Share: