Corvette America has been part of  Corvettes at Carlisle show since it began in 1982. After many years as a vendor, the company's presence expanded in 2009 as the Fun Field sponsor. This special connection with Corvette enthusiasts who displayed their Corvettes during the show continued for several years until 2014 when Corvette America proudly became the Presenting Sponsor of Corvettes at Carlisle.
As Corvette America's involvement with Corvettes at Carlisle has grown, so has our partnership with Carlisle Events. Our companies have worked together to make  the world's largest Corvette show,  a huge success drawing more than 60,000 attendees in 2019 from throughout the United States and around the world.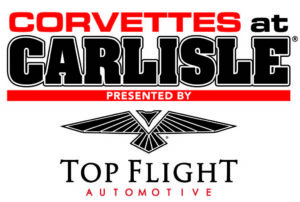 When Top Flight Automotive became the new home of Corvette America the commitment to being the Presenting Sponsor of Corvette at Carlisle remained strong. Now the traditions of the past have merged with the vision for the future and Corvettes at Carlisle is now proudly presented by Top Flight Automotive.
Share: